Liza Wiemer – School Visits
Liza is an award-winning educator and author with over twenty-five years experience.
She is currently touring the world giving in-person and virtual talks about her newest
novel, The Assignment.
EDUCATORS AND SCHOOL ADMINISTRATORS OF WISCONSIN MIDDLE or HIGH SCHOOLS: Through generous donors, sets of The Assignment (10-60 copies) are available for FREE though The Holocaust Education and Resource Center for use as a part of school curriculum. A FREE curriculum guide, provided by Random House Teachers and Librarians also is included. 
Questions? Contact Samantha Abrahamson, executive director for HERC or Liza: lizawiemerauthor@gmail.com
EDUCATORS AND SCHOOL ADMINISTRATORS OF MIDDLE or HIGH SCHOOLS IN STATES OTHER THAN WISCONSIN, through the generosity of a foundation, we are able to provide a classroom set (up to 35 copies) of The Assignment for your school. Please contact Liza: lizawiemerauthor@gmail.com for details.
Read what principals, teachers, and students have to say about The Assignment.
The Assignment… is one of the most interesting, powerful books I've read dealing with academic freedom. My bet is that spontaneous discussion will erupt after students read it.

Pat Scales is the former chair of ALA's Intellectual Freedom Committee, School Library Journal's Freedom to Read, Covid-19 Edition, Scales on Censorship.
The Assignment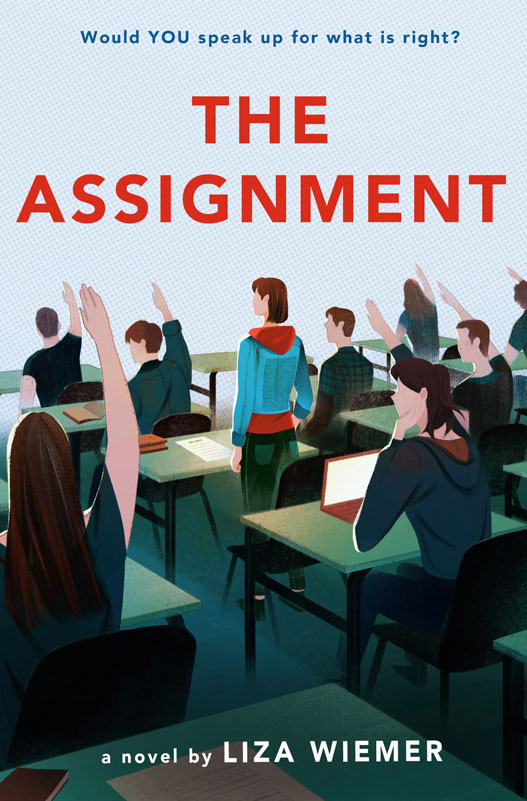 In the vein of the classic The Wave and inspired by a real-life incident, this riveting novel explores discrimination and antisemitism and reveals their dangerous impact. Learn More
SENIOR YEAR. When an assignment given by a favorite teacher instructs a group of students to argue for the Final Solution, a euphemism used to describe the Nazi plan for the genocide of the Jewish people, Logan March and Cade Crawford are horrified. Their teacher cannot seriously expect anyone to complete an assignment that fuels intolerance and discrimination. Logan and Cade decide they must take a stand. As the school administration addressed the teens' refusal to participate in the appalling debate, the student body, their parents, and the larger community are forced to face the issue as well. The situation explodes, and acrimony and anger result. What does it take for tolerance, justice, and love to prevail?
Awards and Honors:
Georgia Peach Best Book nominee
Little Free Library "Read in Color" Recommended Read
TAYSHAS nominee (Texas Library Association)
Sakura Medal Award nominee (Japan)
Sydney Taylor Notable YA Novel
A Bank Street College of Education Best Book of the Year
YALSA Best Fiction for YA nominee
Milwaukee County Teen Honor Book
Wisconsin State Reading Association Recommended YA Novel
Nerdy Book Club Best Young Adult Novel winner
Detailed PDF flyer with more information about my programs: School Presentations
To book a school or library event, please contact Lisa McClatchy, Author Appearances Penguin Random House Children's Books. liske@aol.com
For questions or non-school events, email Liza: lizawiemerauthor@gmail.com
To learn more about my presentations from other educators, please feel free to contact:
Terri Carnell, Arrowhead English teacher utilizing The Assignment as part of their curriculum, carnell@arrowheadschools.org
Jerod Santek, Write On Door County Executive Director, DC school liaison, jerod@writeondoorcounty.org
The Assignment as a Valuable Teaching Aid:
This award-winning novel is unique in how it connects history to society today. It promotes…
Allyship and what it takes to be an upstander against hatred, bigotry, and injustice. Brings to life the challenges of being an ally and why it can be difficult to speak up. The topic connects to Milgram's psychological experiment at Yale University.
Compassion, respect for diversity, and community.
A strong foundation to understand the Holocaust and introduces opportunities to discuss such topics as: the Wannsee Conference, Germany's Final Solution of the Jewish Question, Nuremberg Laws, Germany's Lebensborn program, the false concept of inferior and superior races, eugenics, ghettos, concentration camps, Nuremberg Trials, Eichmann and his trial, Fort Ontario Emergency Refugee Center, World War II immigration laws and antisemitism, MS St. Louis, Kristallnacht, World War II POWs, Holocaust by Bullets, propaganda, antisemitism and hate on the internet, and refugees during World War II and today.
Examine the impact of propaganda, social media, and cognitive dissonance.
Critical thinking skills.
With short chapters, this novel is excellent for a wide range of reading skill levels, including reluctant readers. The book is also available in audiobook format for anyone who may need it. There are multiple narrators, illuminating the events in the story and their impact on the students, the school, the community, and even globally. The main characters are written in first person, providing intimate insight into their experience. Secondary characters are in third person, which creates a little distance while revealing how those characters are affected by what transpires. Text messages, video chats, headlines, articles, comment sections, and Twitter and Instagram posts are also included, making this a fascinating, timely 'window and mirror' for readers.
Presentation #1: The Assignment: From Real Life to Fiction—Novel Secrets Revealed
Group size: Any
Time: Adjustable to school's schedule, allow time for Q & A and possible signing
Liza was done with writing books. But then an article posted on Facebook changed everything and the extraordinary journey to The Assignment began. This engaging presentation reveals behind-the-scenes of The Assignment.
PowerPoint presentation includes some of the extensive research. Videos and photos are utilized. Liza shows the connection between WWII and today, bringing history to life. Allyship and what it takes to be an upstander also is discussed.
How utilizing different writing techniques—dual points-of-view in first person narrative, secondary characters in third-person narrative, use of articles, comments, video chats to create a powerful experience for the reader.
Allyship and what everyone needs to know about speaking up against hate and injustice.
Possible interactive additions: character development, digging deeper to bring characters to life, incorporating setting into action to show, not tell.
Presentation #2: The Unique You and the Power of Storytelling
Group size: Large auditorium to classroom
Time: Adaptable to any schedule, on average 1 – 1.5 hours
From the moment we wake up, we're telling stories about ourselves and others. What do they say about us? How do they impact self-esteem? Who controls our stories? Liza's goal is to offer an empowering, interactive presentation that will have a profound impact on teens and how they view themselves and others. It will also provide a foundation for students to find the courage to speak up against intolerance and justice.
PowerPoint presentation with audience participation
Students will need their own personal space to reflect and write. Activities will also help students improve character development for writing
Depending on time, Liza will present small group activities with full group sharing.
As in Liza's novel The Assignment, students will see how actions interconnect, how important it is to have courage when in the face of intolerance, injustice, and hate, and how each of us has the power to impact others in positive, healthy ways.
Presentation #3: The Assignment: Allyship and Upstanders: Helping Students Speak Up Against Injustice and Hate
Group size: Any
Time: Adjustable to school's schedule, allow time for Q & A and possible signing
Alienation, bullying and feeling different are strong barriers to speaking up against injustice and hate. But sometimes, it's as simple as not wanting to be a minority voice, especially when peer pressure is strong to remain silent. Students have many other reasons to be bystanders, and we will address them as well as issues they've faced anonymously. (Liza will provide an anonymous google survey for students to fill out prior to her visit.)
The PowerPoint presentation will include:
Why is it hard to be an ally and upstander?
Qualities of an ally and upstander. Turning fears into compassion and respect
Examples from the novel
When is it time to speak up? What does it take to have courage? Finding your voice and best practices to be heard
Activities: Throughout the presentation, Liza will engage the students with various questions to answer and ask for volunteers to help in a demonstration
Presentation #4: How to create dynamic, interesting, realistic characters and stories
Group size: 2-50
Time: Class period, breakfast club, lunchtime, after-school activity
Students will learn and implement some quick techniques to dig deep, then deeper to discover those hidden secrets about their characters and stories. Liza will help students think outside the box during this interactive workshop. We'll discuss how the question "WHY?" is critical not only for any writing project, but in life.
Individual and full group activities.
Materials to be emailed to the teacher including: The keys to creating realistic characters, "Why" questions, Words and phrases to avoid in writing, setting observation worksheet.
We will discuss the use of different writing and storytelling techniques Liza utilized in The Assignment—narration, emails, comments, video chats, letter to the editor, articles, headlines.
This has been a very popular workshop for creative writing classes.
Bespoke Presentation Topics
Group size: Any
Time: Adjustable to group's schedule. Potential to allow time for Q & A and possible signing
Liza has spoken to groups all around the world about the following topics:
Antisemitism
Discrimination
Curriculum Violence
The Holocaust
Creative Writing
Ableist Language
Testimonals
Arrowhead High School
This video was made by Language Arts teacher & librarian, Liz Munkwitz
Here's an interview from TMJ4's THE MORNING BLEND, which was a result of my Arrowhead HS visit and a video I put together with my son, Justin, after meeting AHS Alec Raebel. It exemplifies the power of how "One HELLO can change a life. One HELLO can save a life." Find out how Alec's anti-bullying poem saved a girl's life and his inspiring story that has had profound impact on me and thousands of others! Facebook or YouTube
Comments from Arrowhead High School students
Your author event was eye-opening, hopeful and got me thinking about my role in this world and how I can make a difference in ways I really hadn't thought about. / Thank you for encouraging us to speak up, letting us know that our voices matter when so often fear and peer pressure leads to silence. / Your motivation to make a difference, your perseverance and hard work helped me to believe in myself. / I felt your passion and it sparked mine. / The writing activities were impactful and challenged me to view my world differently. I loved how you had us write down how others perceive us versus how we view ourselves. It was insightful as well as helpful for my writing. / Your event made me think outside the box. / For the longest time, I had nothing to write about, but your tips helped me find a story that has meaning and is representative of me. / This is the third time I heard you speak, and I learn something new every time. Once again, your presentation had a profound impact on me. Thank you.
From Chris Sheff, Nicolet High School English Teacher
I am a high school teacher and had my advanced and regular level classes read this novel. I was amazed by how this book resonated with almost all of my students. My advanced level classes debated the actions of the characters and the difficult issues raised throughout the book. Many students in my regular level classes throughout the year struggled with simply completing reading assignments, even when give just a few pages to read, due to lack of interest or difficulty with reading. When given this book and asked to read the first chapter, many students came back and had read multiple chapters. Only a few days later many students had completed the whole book, which was the first book that some of these students have ever read from cover to cover. These students were engaged in class discussions, and some students who had not voluntarily participated in class the whole year had multiple viewpoints to share. My students found the format of how this book was written, as well as the story, to be very intriguing. I have never seen a book get such a great reception from such a wide range of students. Kids were literally talking about this book in the hallways, which again I have never seen before. Many teachers and parents ended up reading this book because of how much buzz it generated. Not only is this book a fascinating read, but it brings up many important issues that young people (really all people) deal with that do not always get the attention or conversation that they merit. This book needs to be in as many schools as possible.

If you would like to get in touch with Mr. Sheff for additional information, please email: christopher.sheff@nicolet.us
Charlotte Country Day School
The following poem was sent to me by eighth grade teacher and Language Arts Department Chair, Kasey Short, Charlotte Country Day School. It was written by Oliver Halverstam, one of her students and reveals the impact of hatred and antisemitism. This is also a heartfelt plea and call for responsibility upon all of us to speak up against injustice, bigotry, lies, and hatred. Our students, our children are not immune. They are aware. They feel it, experience it, internalize it, and have hope for a better world. (Shared with permission) Thank you, Oliver!
The Assignment
By Oliver Halverstam
There will always be awful people
Everywhere you go
Some people hate for no reason
They blame their problems on others
But there are good people too
Family will always help you prevail
In a town, there was an assignment
this was no book report
It showed some people's true colors
But some kids prevailed
They said
No
With help from family and friends
they ended the assignment
They showed people what the Holocaust was
And showed people why it should never happen again
Some people like Ellie Wiesel went through the Holocaust
They saw people die
They saw their family members burned and beaten to death
They experienced hate on the most extreme level
This was no assignment this was real life
So by telling people to

reenact  the

Holocaust
Even though you may think things like this will never happen again
Some people like Ellie Wiesel went through the Holocaust
People like me

have to

live with fear that it may
Today there are still people who believe that Hitler was right
That the Holocaust never happened
Some people call it a hoax
Hate crimes are committed every day
People that have so much hate feel that they need to kill innocent people to express it
So

if you are given an assignment that  provokes hate
You need to stop it
But

don't

do it alone
Find help from your family 
Find help from people that have your back
Because assignments have more power than you think 
Assignments can change the world forever
Other Testimonials
Dear Mrs. Wiemer,
I love your book. Your presentation really did make a difference to me because you gave me a little more confidence in myself. I just want to thank you for coming to our school. I HATE reading but you made me want to read. The only other person that ever has done that is Reba McEntire.
Hannah, Southern Door High School
Hi Liza,
Thank you so much for your vision and passion with both the book and with using the book as a means to reach out to and connect with youth. I have worked with many wonderful authors over the years, but you are the first one that said you wrote the book to be able to work with students. The message in your book to me is one of human kindness and shows the value of taking time to connect with people. This is such a powerful message to share and it empowers students in a positive way to experience how they make a difference in people's lives. You also embody this message with your open personality, clear joy for students and ability to connect with students in meaningful ways. Your time at our school was a gift.
Many thanks,
Vinni Chomeau, Friends of Gibraltar Coordinator
Oh Liza, you are an amazing gift to us! You blew me away with your book, your ability to reach many in a short amount of time. Jerod, too, is amazed and impressed with your ability to reach high school youth. I wish I could have spent more time with you!! Please come back!
Dee Paulsen, Board Chair, Write On Door County