14-Apr-24
Temple Beth Israel, Skokie
                                           April 8-12-2024
St. Louis Kaplan Feldman Holocaust Museum
7-Apr-24
The Loop Synagogue, Chicago
3-Mar-24
Congregation Sha'aray Shalom, Hingham, MA
28-Nov-23
Milwaukee Public Library – ALA Community Read
                               November 14-19, 2023
NCTE in Columbus, OH
                                October 29 to 9, 2023
ADL Michigan School Events
                                  October 22-27, 2023
Greater Rochester Teen Read Author
19-Oct
Marist School
5-Oct
Women's Philandropy, Allentown, PA
5-Oct
Jewish Day School of Lehigh Valley
3-Oct
Pennsylvania Library Association
                            September 18-20, 2023
Purdue University and McCutcheon High School
20-Aug
Friendship Café, Tikkun Ha-ir, Boswell Books event
8/20/23
Hadassah Lexington, KY
7/14/23
nErDCampPA 
7/11/23
Midwest Holocaust Educators Consortium 
6/23/23
ALA Chicago, Kalaniot Booth Signing
6/22/23
Crossroads Presbyterian Church Book Club
5/31/23
Montgomery County Schools – Maryland
5/25/23
Montgomery County Schools – Maryland
5/19/23
Fulshear High School, TX
5/11/23
Montgomery County Schools – Maryland
5/10/23
Montgomery County Schools – Maryland
5/7/23
Anshe Emeth Memorial Temple
5/3/23
Pozez JCC of North Virginia
4/28/23
Bell Multicultural High School
4/21/23
NCTE YA LIT Summit
4/17/23
Hadassah Henrietta Szold chapter in Philadelphia 
4/17/23
Congregation Beth Israel Ner Talmid Book Club
4/16/23
Beth El Synagogue, La Jolla
15-Mar-23
Port Jewish Center, Port Washington, NY
13-Mar-23
Congregation Bnai Moshe Book Club
13-Mar-23
Westerville North High School, Westerviille, OH
12-Mar-23
Congregation Beth Tikvah – Columbus, OH
10-Mar-23
Immaculate Conception – 8th grade
8-Mar-23
University School – Milwaukee
8-Mar-23
Archdiocese Catholic School – 7th grade
8-Mar-23
Midwood Catholic Academy – 6th grade
27-Feb-23
TEDXTALK – UW- MADISON!!
22-Feb-23
MJDS Eighth Grade
19-Feb-23
Congregation Beth El, North Carolina
                                February 14-16, 20

23

Vancouver JCC

9-Feb-23
NC Holocaust Council
9-Feb-23
WSRA Conference
3-Feb-23
Pozez JCC of North Virginia Adult Book Club
2-Feb-23
Sheboygan Falls Middle School
29-Jan-23
ALA Midwinter, New Orleans 
26-Jan-23
Patrick F. Taylor Science & Technology Academy, Avendale, Louisiana
22-Jan-23
University Presbyterian Church, Tempe, AZ
18-Jan-23
Write On Door County
18-Jan-23
Westosha High School
17-Jan-23
Temple Concord, Syracuse, NY
17-Jan-23
Emanu El B'ne Jeshurun Book Club
14-Dec-22
DePere MS
12-Dec-22
Montana Holocaust Academy
                             December 11-26, 2022  
Write On Door County
1-Dec-22
Ozaukee Middle School
30-Nov-22
Arrowhead High School – 
28-Nov-22
LA Talk Radio with Allen Cardoza
22-Nov-22
The Lincoln Academy, Beloit
                              November 20-22, 2022
NCTE: Anaheim, CA 
15-Nov
Los Amigos High School, Irvine, CA
14-Nov
Garden Grove High School, Irvine, CA
10-Nov
Linden Middle School, MI
10-Nov
Waterford Mott High School, MI
9-Nov
Oak Park Prep Academy, MI
9-Nov
JCC of Metro Detroit
8-Nov
Troy High School, MI
8-Nov
Jewish Women's Foundation Detroit
8-Nov
JBC Writers' Conference
7-Nov
Friendship Circle Teens
7-Nov
Bloomfield Hills Middle School, MI
2-Nov
Temple Israel Minneapolis
27-Oct
Association of Jewish Libraries
27-Oct
William B Travis High School, Fort Bend, TX
26-Oct
Evelyn Rubenstein JCC of Houston
26-Oct
Clements High School, Sugar Land, TX
12-Oct-22
Second Wednesday Book Club – AZ
                      

 August to September 2022

Auckland, Wellington NZ, Melbourne, Sydney, Brisbane, AUS
18-Aug-22
University School of Wisconsin Education Program
16-Aug-22
American Association of University Women book club
7-Aug-22
"Her Turn" – WORT FM Radio Show
2-Aug-22
Morning Blend TV show
22-Jul-22
NC Holocaust Council
20-Jul
Sperling Kronberg Mack Holocaust Resource Center and the Nevada Department of Education 
19-Jul
HERC Teacher's event
15-Jul
Nerd Camp PA
14-Jul
Books & Beer Book Club
12-Jul
CAJE Online Education Convention
10-Jun
Hadassah NC
25-May
Jewish Book Council Author Network
19-May
Oak Park and River Forest High School
17-May
Sheboygan Falls Middle School
11-May-22
Illinois Community Book Club
10-May-22
Glen Hills Middle School
28-Apr-22
Arrowhead High School – 
27-Apr-22
Peotone High School
11-Apr-22
Baltimore Hadassah
7-Apr-22
Ma'ayanot Yeshiva High School for Girls
7-Apr-22
St. Louis Holocaust Museum Docent Book Club
6-Apr-22
Liberty Middle School, NJ
6-Apr-22
Roosevelt Middle School, NJ
4-Apr-22
Solomon Schechter Day School, Bergen County
30-Mar-22
Clinton Middle School/High School and Community Read
28-Mar-22
Long Grove Middle School Eighth Grade
24-Mar-22
Harper Middle College, Charlotte
23-Mar-22
Charlotte Hebrew High
23-Mar-22
Oakwood Middle School, Statesville
22-Mar-22
Community School of Davidson
18-Mar-22
Write On Door County – two events
8-Mar-22
CESJDS – six events
7-Mar-22
Berman Hebrew Academy – four events
6-Mar-22
Washington Hebrew Congregation
3-Mar-22
Hadassah Afternoon Book Club
2-Mar-22
Rosh Chodesh Book Club, Chicago 
28-Feb-22
NSS Beth El
27-Feb-22
David Labkovski Project's Sixth Annual Scholar Event – Scholar
11-Feb-22
Mosaic TV show
10-Feb-22
Austin-NCJW
3-Feb-22
WSRA Conference
2-Feb-22
Temple Sholom in Broomall
30-Jan-22
Congregation Tikkun vOr
14-Jan-22
McClure Junior High School
9-Jan-22
Makom Solel Lakeside
6-Jan-22
Shalhevet High School
4-Jan-22
Illinois Holocaust Museum and Education Center
16-Dec-21
Shelley Fredson
14-Dec-21
North Shore Congregation Israel Glencoe, Illinois)
13-Dec-21
Central High School
1-Dec-21
Brighton High School
12-Nov-21
NCTE
10-Nov
JCC – St. Louis
31-Oct
Jewish Gen-Z Interview
26-Oct
Brighton Memorial Library
13-Oct
Cherry Creek East
12-Oct
Northern Illinois University
4-Oct
Ozaukee Middle School
15-Sep
NPR KERA – Dallas https://think.kera.org/
13-Sep-21
Hadassah of Baltimore
18-Aug-21
Vassar Temple Book Club
12-Aug-21
Greendale Community-wide Diversity Novel
5-Aug-21
Eau Claire Book Club
3-Aug-21
Oklahoma City Lit Fest, Metropolitan Library System
18-Jul-21
Write On Door County 
15-Jul-21
Nerd Camp PA
13-Jul-21
DHJC Sisterhood Book Club
6-Jul-21
Mequon Book Club
18-Jun-21
Fair Isle Bookstore Signing
3-Jun-21
North Shore Book Club
25-May-21
Jewish Book Council Author Network
20-May-21
Ninth Candle
5-May-21
ADL -New York
1-May-21
WSRA Virtual Conference
26-Apr-21
Milton Schools Teacher Inservice
19-Apr-21
Jewish Federation of Northwest Indiana
16-Apr-21
Between the Lines Book Club
14-Apr-21
Milwaukee Jewish Book Club 
12-Apr-21
National Network for Educational Renewal
11-Apr-21
Joint Synagogues of Long Island Event
8-Apr-21
University School of Wisconsin
7-Apr-21
Hillel High
24-Mar-21
Maryland Avenue Montessori School
18-Mar-21
Hadassah of Delaware's Book Club
17-Mar-21
Instagram Live with Nick Colota
16-Mar-21
Butler Middle School
10-Mar-21
NCJW – Denver
9-Mar-21
Franklin Public Library
7-Mar-21
Tuscon Festival of Books
5-Mar-21
Creative Arts Teen Summit (CATS)
2-Mar-21
Holocaust Education Resource Center and Coalition for Jewish Learning Book Club 
26-Feb-21
Oak Park and River Forest High School – 2 classes
25-Feb-21
Oak Park and River Forest High School
24-Feb-21
Charlotte County Day School
23-Feb-21
Teens Write – Write On
22-Feb-21
Amster's Book Club
19-Feb-21
Gilmore Fine Arts
11-Feb-21
First Pages
11-Feb-21
Hamilton High School
2-Feb-21
Hadassah of Suffolk County
9-Feb-21
Teens Write – Write On
7-Feb-21
WEMTA Author Fair
27-Jan-21
Mercer County Community College Holocaust, Genocide, and Human Rights Center
11-Jan-21
 Sinai Book Club 
10-Jan-21
Temple Beth Israel
15-Dec-20
Westwood Public Library
8-Dec-20
Shlichut Group Milwaukee
19-Nov-20
Badger High School Book Club
18-Nov-20
Kveller – FB Live
17-Nov-20
Association for Jewish Libraries
15-Nov-20
Waukesha Jewish Book fair
12-Nov-20
STAR Bookclub (Suburban Temple Afternoon Retirees)
11-Nov-20
Green Bay West High School Book Club
11-Nov-20
Reader's Choice Book Club
11-Nov-20
Horlick High School
10-Nov-20
Menomonee Falls High School Book Club
6-Nov-20
Gibralter Middle School
3-Nov-20
Badger High School
25-Oct-20
Write On Door County Online National Event 
21-Oct-20
Lake Travis Teacher's Book Club
14-Oct-20
Pre-recorded event for Wisconsin State Reading Association – October 14-22
14-Oct-20
Fox Cities Book Festival
12-Oct-20
Arrowhead High School – eight classes over two days
9-Oct-20
FB live event with Fox Cities Book Festival
8-Oct-20
Author event with Joanne Levy 
1-Oct-20
North Shore Library Zoom event
29-Sep-20
 AIPAC Book Club
24-Sep-20
FB Live event with October Crifasi, audiobook director of THE ASSIGNMENT
23-Sep-20
Franklin Middle School – 3 classes
16-Sep-20
Instagram Live with Emily Lawrence, Logan in the audiobook
26-Aug-20
Great Thoughts' Great Readers FB take-over all day event
25-Aug-20
Boswell Bookstore Launch – Zoom event
24-Aug-20
American Jewish University  – B'Yachad Together
 
 
August 23: What You Should Read Podcast
August 19: Happy Writer Podcast with New York Times Bestselling Author, Marissa Meyer
August 4: SLJTeen Live! Our Voices, Our Time – "Acting Up" panel

May 5: SCBWI-Wisconsin – Zoom event
April 23: Write On Door County – Zoom event
February 20:  Arrowhead High School
2019:
Updates to come
2018:
January: Santa Fe
February 27: Arrowhead High School
April 19-22: Untitled Town 
August 12: WTMJ's The Morning Blend
September
14th Hamilton High School
17th UW-Milwaukee Continued education:
2oth: Hamilton High School
2015-17 continued from bottom:
PREVIOUS EVENTS:
October 2015:
28th — We're celebrating Hello?'s publication a little early at Boswell Book Company! Come join us!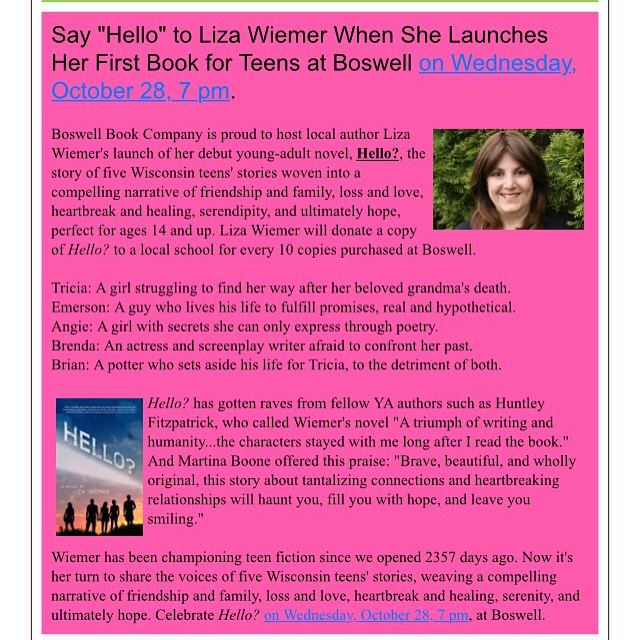 Click here to see a 15 second video of the launch party: IMG_3208-4
November 2015:
8-13th: Door County, Wisconsin
Monday, November 9th—Washington Island High School
Tuesday, November 10th—Gibraltar High School
Wednesday, November 11th—Sturgeon Bay High School
Thursday, November 12th—Sevastopol High School
Friday, November 13th—Southern Door High School
Green Bay Gazette Interview
17th:
Day—Middleton High School
Night—Whitefish Bay Library, NaNoWrimo event: "Writing Characters that Leap Off the Page."
19th: 
Day—East Troy Community High School
Evening—Book Appetit Book Club
23rd: 
Milwaukee Public Central Library,  NaNoWrimo event: "Writing Characters that Leap Off the Page."
December 2015
1st:
Amos Alonzo Stagg High School, Palos Hills, IL
8th
Waterford Union High School
14th: 
Clinton High School
January 2016
20th
USM
21st
USM – River Hills
February 2016
3rd
Alamo Heights High School, TX
4th
Bowie High School, Austin, TX
5th
Anderson High School, TX
8th
AHHS, San Antonio, TX
9th
Westlake High School, Austin, TX
12th 
Whitefish Bay High School
18th
Arrowhead High School
24th
Amos Alonzo Stagg High School, IL
March 2016
1st-3rd:
Kewaunee Schools
9th:
Menomonee Falls High School
10th
The Morning Blend, TMJ4
10th
Women & Children First, Chicago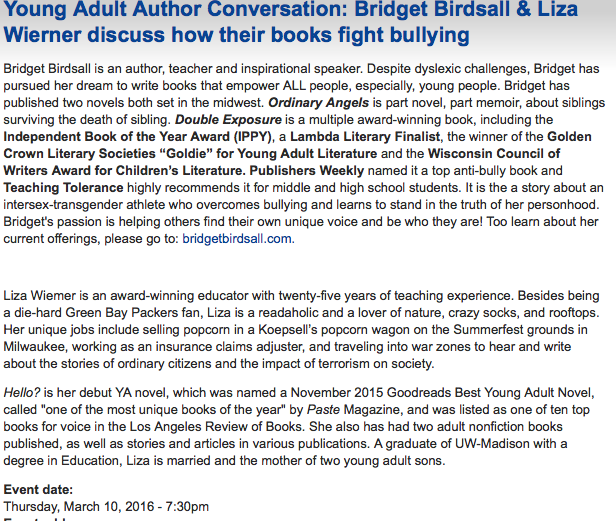 13th
Bethesda Library, MD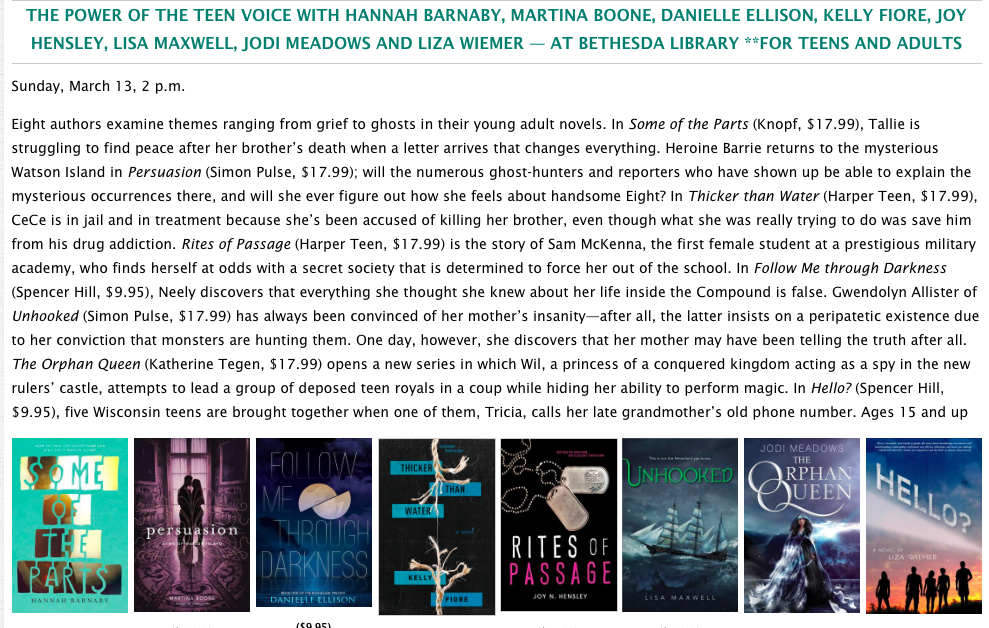 14th
Chantilly Library, VA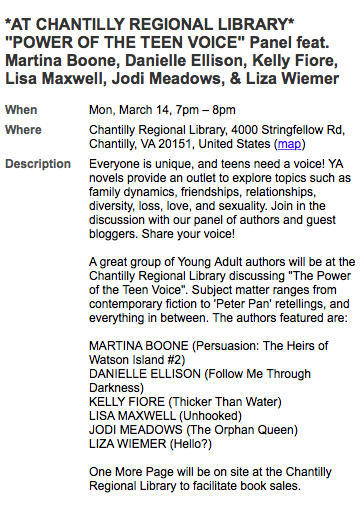 15th
Churchill High School
18th
Montgomery Blair High School
20th
Books of Wonder, New York Teen Author Festival signing, NYC
22nd
Wilmington, DE JCC Young Adult Event
23rd
Wilmington High School
April 2016
5th
Arrowhead High School
8th
Stoughton High School
10th
WEMTA Author Panel/Fair
18th
Hartford Union High School
19th
Peotone High School
May 2016
5th
Evansville High School
6th
Nicolet High School
9-13th
Chicago/BEA (I'm not signing this year, but I look forward to seeing you!)
15th
Epic event for all five Door County High Schools & a select number of Nicolet High School students: Life Imitates Art: Walking in the footsteps of Hello? characters on Washington Island
18th
Frank L. Weyenberg Library of Mequon-Thienesville with Jennifer Armentrout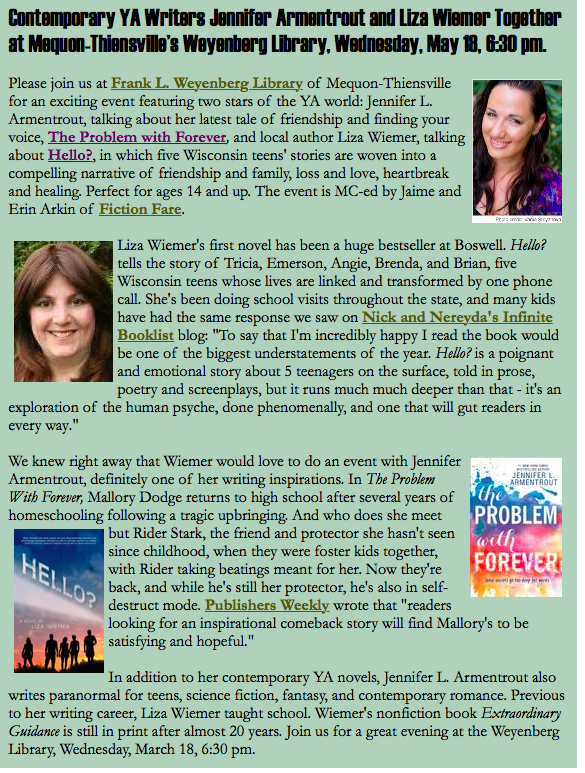 19th
Nicolet High School
29th
Write On Door County
June 2016
20-24
Teen Writing Workshop
July 2016
5th
Jefferson Street Books, Sturgeon Bay
6th:
Fair Isle Bookstore, Washington Island
October 2016
10th
Oak Creek Library Teen Week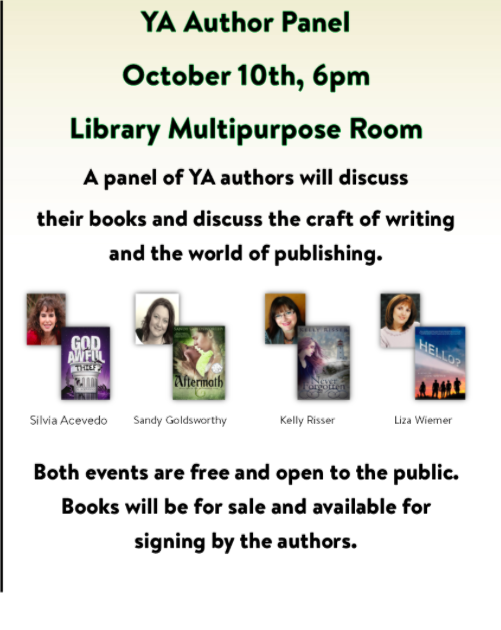 28th
Wisconsin Library Association Annual Conference
The Power of the Teen Voice
Track: Building Collections/Back to the Book
Melissa Gorzelanczyk, Green Bay, Liza Wiemer, Milwaukee
Wisconsin authors Brittany Cavallaro (A Study in Charlotte), Melissa Gorzelanczyk (Arrows) and Liza Wiemer (Hello?) will share how YA novels provide an outlet to explore topics such as diversity, family dynamics, relationships, sexuality, coping with loss and grief, both through fantasy and contemporary fiction. The authors will give librarians specific tools to help readers discover new books based on key words and interests.
November 2016
16th
East Branch Library – NaNoWrimo Event: WHO ARE YOUR CHARACTERS? Bring them to life with this hands-on workshop, dig deeper and reveal their deepest, darkest secrets.
2017
February 2017
2nd 
Westosha Central High School
9th
WSRA—SCBWI-Wisconsin
10th
Lake Zurich High School's Writers Day
16th
Anderson High School
17th
Tom Glenn High School
22nd
Pflugerville High School
24th
Arrowhead High School
March 2017
2nd
Exposure to Creativity Day, Door County
5th
Write On Door County – Workshop: Writing a YA Novel
19th
Minneapolis Girl Scouts of America
20th
WEMTA conference with Melissa Gorzelanczyk, author of Arrows: https://wemta17.sched.com/event/9Snw/the-power-of-the-teen-voice
April 2017
3rd
Altmar-Parish-Williamstown Jr/Sr High School, Parish, NY
4th
The River's End Bookstore, Oswego, NY
5th
30th
UntitledTown Book and Author Festival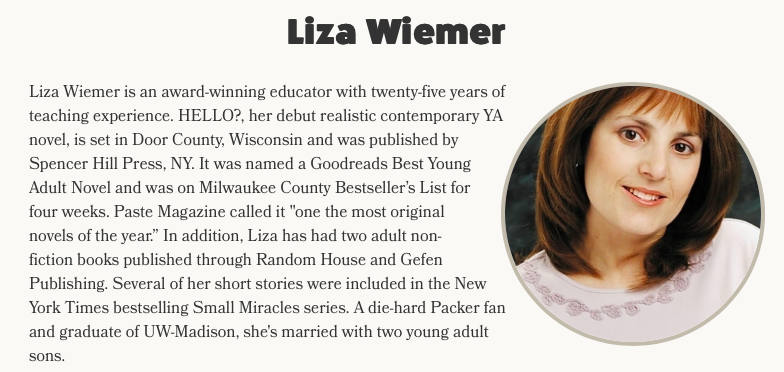 May 2017

23rd
Waterford Union High School
June 2017
2nd
Oshkosh Public Library
October
26th
 Kettle Moraine High School