News
Publisher's Weekly: Authors Raise $100K for Levine Querido
Out and About: A Tale of Giving
Recent Reviews:
The Assignment
Awards/Honors/Nominations:
The Assignment:
Lincoln Award Nominee
Georgia Peach Book Award nominee
State of Illinois Read for a Lifetime Book
Little Free Library "Read in Color" Recommended Read
TAYSHAS Recommended Read (Texas Library Association)
Sakura Medal Award nominee (Japan)
Sydney Taylor Notable YA Novel
A Bank Street College of Education Best Book of the Year
YALSA Best Fiction for YA nominee 
Milwaukee County Teen Honor Book
Wisconsin State Reading Association Recommended YA Novel
Nerdy Book Club Best Young Adult Novel winner

On October, 12, 2021, Liza was named one of…
Reviews/Interviews/Articles: 
On October 25, 2022, A BBC reporter asked Liza Wiemer to comment on Ye's (Kanye West's) antisemitic rants. Here's her response:
ABC-Affiliate Boca: Mosaic: TV show
KERA's "Think" – NPR Dallas. Interview with Courtney Collins 
KERA: 'Appalled:' Holocaust Museum leaders condemn Southlake ISD call to offer 'opposing' Holocaust views
North Carolina Council on the Holocaust May Newsletter: History Stuck in the Past? A Perspective by Liza Wiemer, author of The Assignment – page 20
SCBWI Pro Insider: The Power of Perseverance
The Upstream: Opinion Editor – The Assignment is a book every teen should read, regardless of religion
The Vedette: Book Presentation Successfully Discusses Thought-provoking Topic
West Orange, New Jersey Patch: Author Visits West Orange Students for Holocaust Remembrance Day
Moment Magazine: Beshert | I Was Done Writing Books. I Thought.
Spot-on New Jersey: West Orange middle schoolers hear from Liza Wiemer on Holocaust Remembrance Day
TapInto West Orange: Liberty & Roosevelt Middle Schools Experience Unique Holocaust Remembrance Day
The Vedette: Award Winning Author Liza Wiemer to Visit PHS April 27
Moment Magazine: Moment Brand Studio: Liza Wiemer Fights Antisemitism with "The Assignment"
The Jewish Press: A Project Gone Wrong
Milwaukee Magazine: This Book By a Local Author Is a Must-Read: Liza Wiemer's new novel tells a story about standing up against injustice.
Social Justice Books: A Teaching for Change Project – The Assignment,  Activism and Organizing, War and Anti-War, Education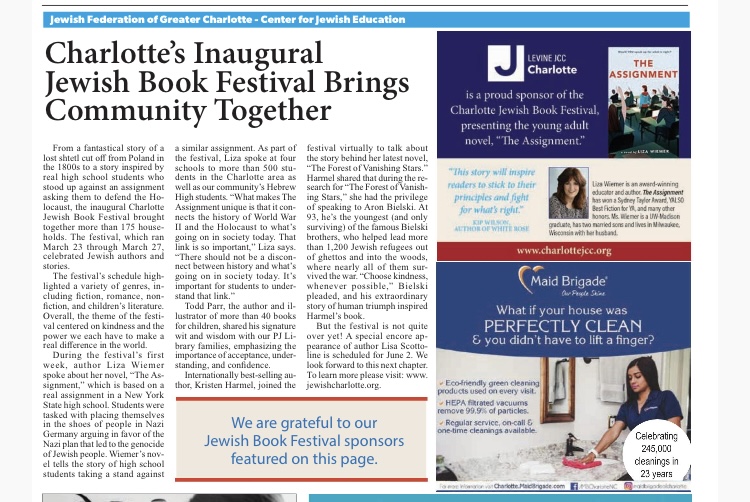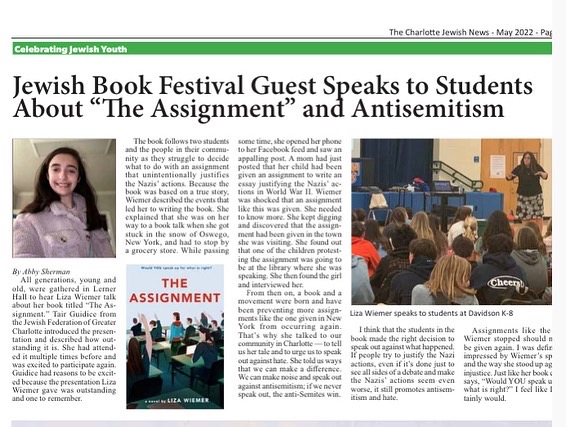 JBC Bookshelf: Kids Summer Read – The Assignment was one of "fif­teen fan­tas­tic read­ing rec­om­men­da­tions to take young read­ers on imag­i­na­tive adventures!"
Why the Sydney Taylor Awards Matter
The Hub: Best Fiction for Young Adults (#BFYA2021) Nominees Round Up
JTA: The Holocaust is exaggerated in pop culture. That makes it hard for educators to teach the truth. – Article – wonderful mention – also in: Chalkbeat, Longmount Leader.com, NewsNation USA, Wisconsin Jewish Chronicle, Jewish Exponent
 Wisconsin State Journal: 'The Assignment' explores what happens when a classroom lesson becomes indefensible
Kveller Magazine, "Hitler Was Not 'About About One Thing,' Congresswoman Miller"
EW – Entertainment Weekly's What's in a Page: How Han Solo and Princess Leia inspired Marissa Meyer's new novel – " What is the last book that made you cry? "The Assignment by Liza Wiemer.
Kveller Magazine "A Teacher Made His Students Debate Hitler's Final Solution. What Happened Next was Incredible." Reprinted: Jerusalem Post, The Jewish World, La, Pagina Judia, CT Jewish Ledger, Kogonuso, Cleveland Jewish News, JTA, Columbus Jewish News, The Jewish News of Northern California, Intermountain Jewish News, NJ Jewish Standard
Jewish Views: The Assignment: Novel Based on Actual Antisemitic Assignment
We Must Stay Vigilant Against #Holocaust Education Going Off the Tracks
Washington Independent Review of Books
Review – Sydney Taylor Shmooze 
Review – Jewish Book Council
Nerdy Book Club, MAKE HISTORY – SPEAK UP! – BOOK REVIEW BY ALIZA WERNER
Brightly: Raise Kids Who Love to Read: 11 YA Book on Courage and Bravery
School Library Journal, "Freedom to Read, COVID-19 Edition" by Pat Scales. "Newer books can also create conversation about free speech and pique student interest… The Assignment by Liza Wiemer (Delacorte, Aug. 2020). It's one of the most interesting, powerful books I've read dealing with academic freedom. My bet is that spontaneous discussion will erupt after students read it."
Journal Times: Horlick Students Participate in "HumanKIND" Assignment
(Australia) ACT Labor – PROGRESSIVE BOOKS TO INSPIRE LITTLE ONES AND YOUNG PEOPLE
Here's the announcement in Publisher's Weekly

Hello? was named a Goodreads YA Best Book of the Month: November 2015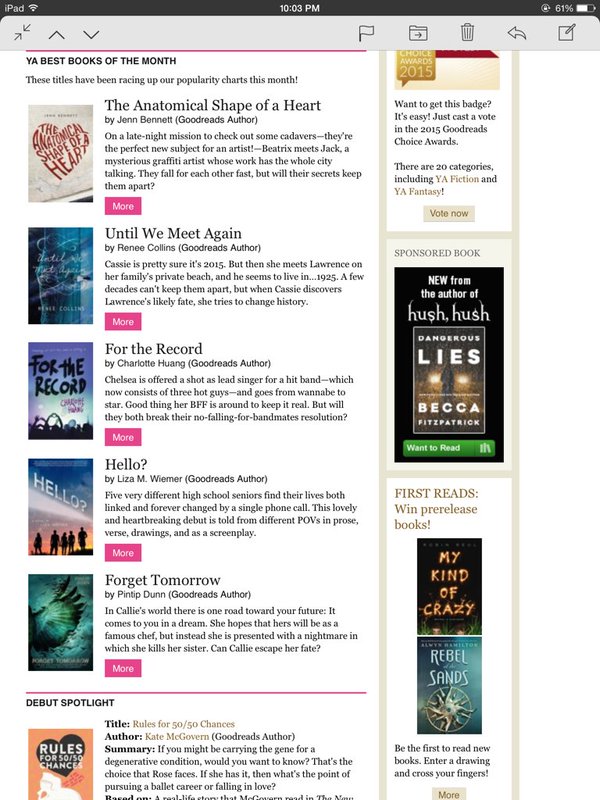 October 1, 2015: 
Fantastic review, School Library Journal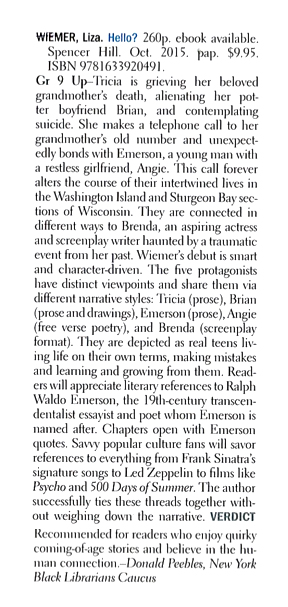 October 9, 2015
Washington Independent Review of Books "5 Conversation-Starting YA Novels," by Caroline Bock
October 22, 2015: 
It's official! Hello? is the Nicolet High School sophomore novel! All 285 students will be reading Hello?. The English department wrote a grant so that all students could receive the novel. In addition to my visit, the teachers have scheduled a suicide prevention counselor, screenplay writer, and poet to come in and enhance learning.
November 1, 2015
"11 Must-Read Books Coming This Month," by Diane Le, Brit & Co.
November 5, 2015: 
Hello? was included in Paste Magazine's "10 of the Best New YA Books in November." Hello? "is one of the most original YA novels of the year… If you're looking for something incredibly different to pick up this month, push this to the top of your list."
November 13, 2015:
Hello? was included in Brit + Co's "10 of November's Must-Read YA Books"
November 14, 2015
Door County Advocate: "Students Learn the Power of Hello" by Samantha Hernandez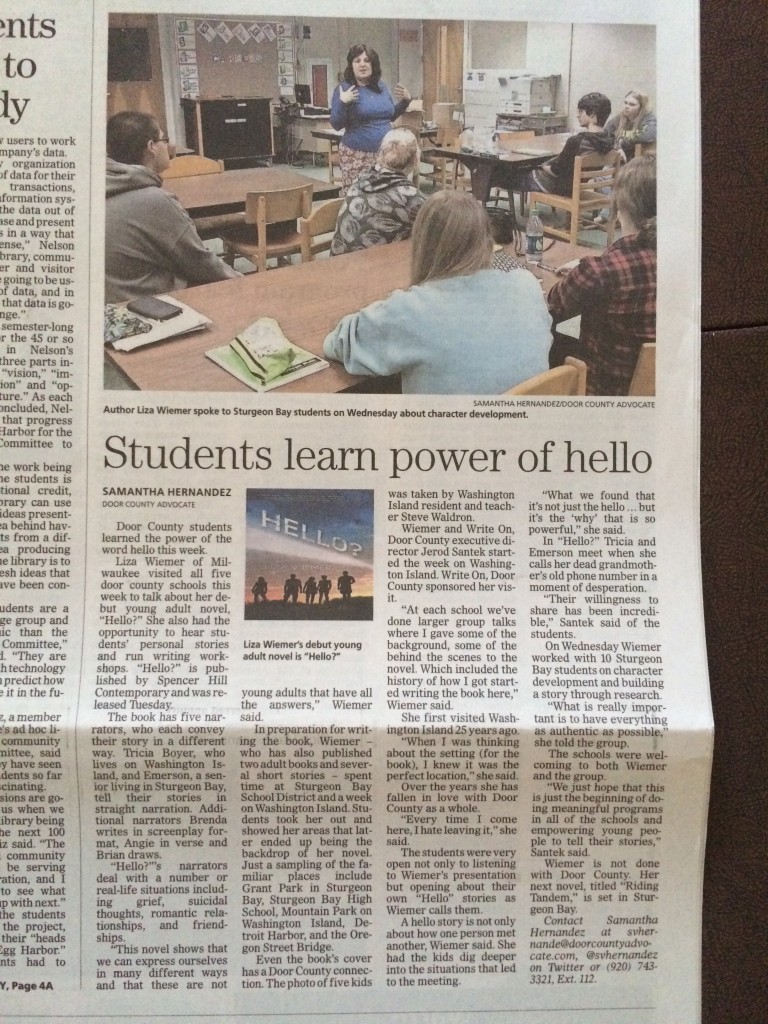 November 16, 2015:
Write On Door County Newsletter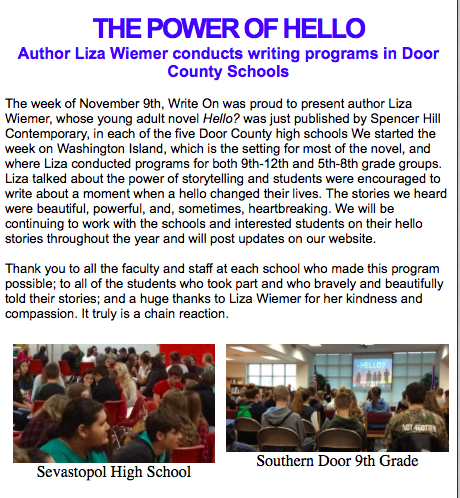 November 21, 2015
Los Angeles Review of Books: The Grain of Voice, by Paul Volponi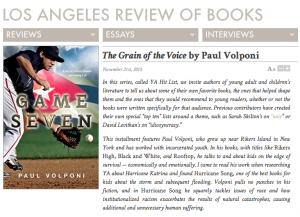 Paul Volponi's list of best books for voice: Flannery O'Connor, A Good Man is Hard to Find. Paul Griffin, Stay with Me. John Steinbeck, The Grapes of Wrath. Greg Neri, Chess Rumble. Jack Lewis, "Who's Cribbing?" (Please note that there is a typo on the spelling of my name.) Liz Weimer, Hello? The multiple voices and styles here remind me of a patchwork quilt. It has the same feel as Carole King's Tapestry album. I find myself replaying the voices in my mind, like songs with shifting keys and melodies. Chris Lynch, Inexcusable, Jay Asher, Thirteen Reasons Why, Shawn Goodman, Kindness for Weakness,  Drew Daywalt, The Day the Crayons Quit.
January 18, 2016
January 22, 2016
University School Milwaukee News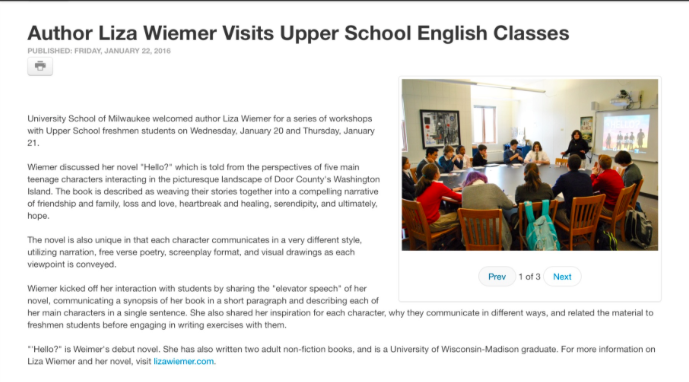 March 10, 2016
WTMJ4 – The Morning Blend
March 15, 2016
May 2016
The Hartford Chronicle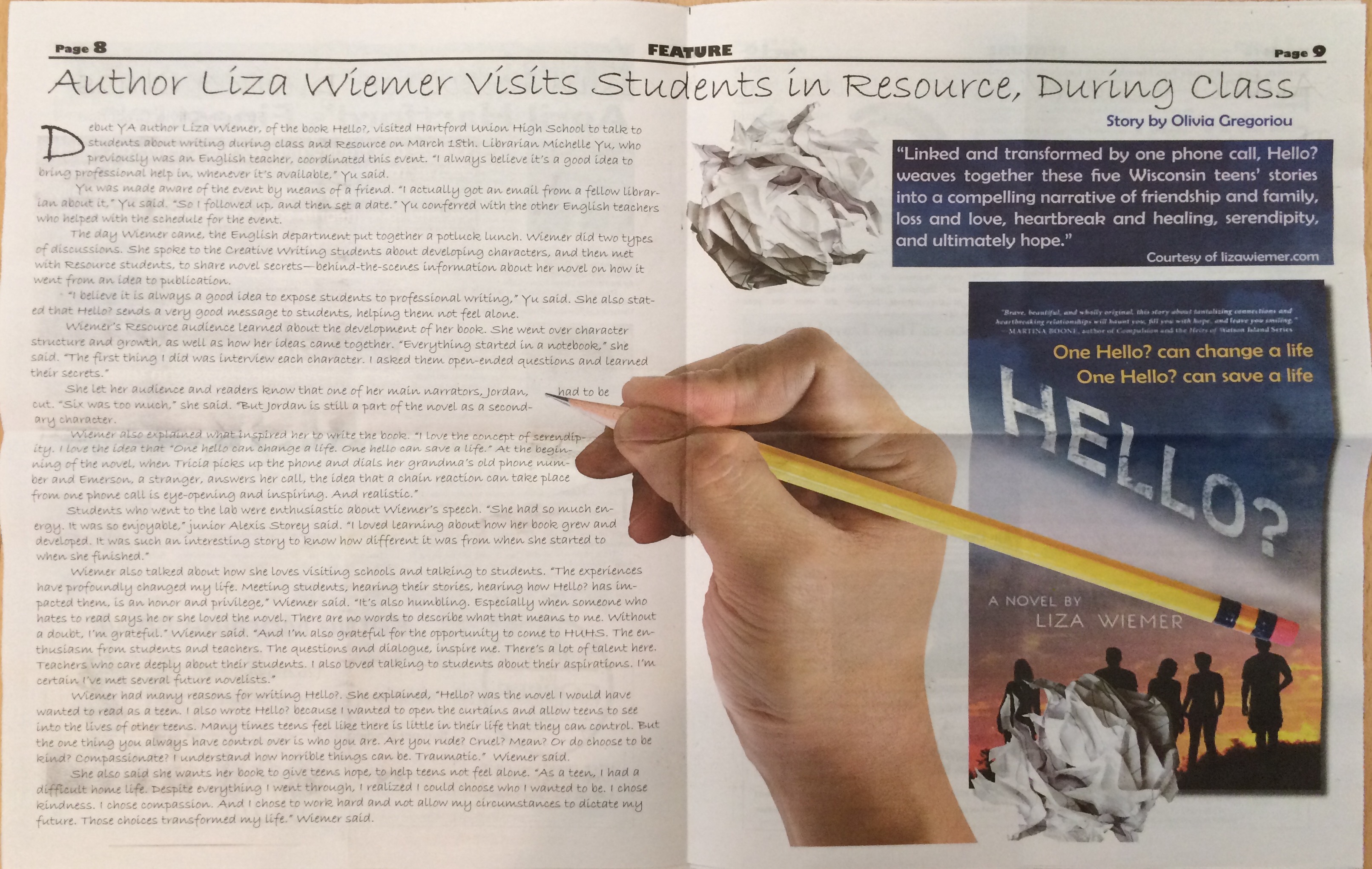 May 27, 2016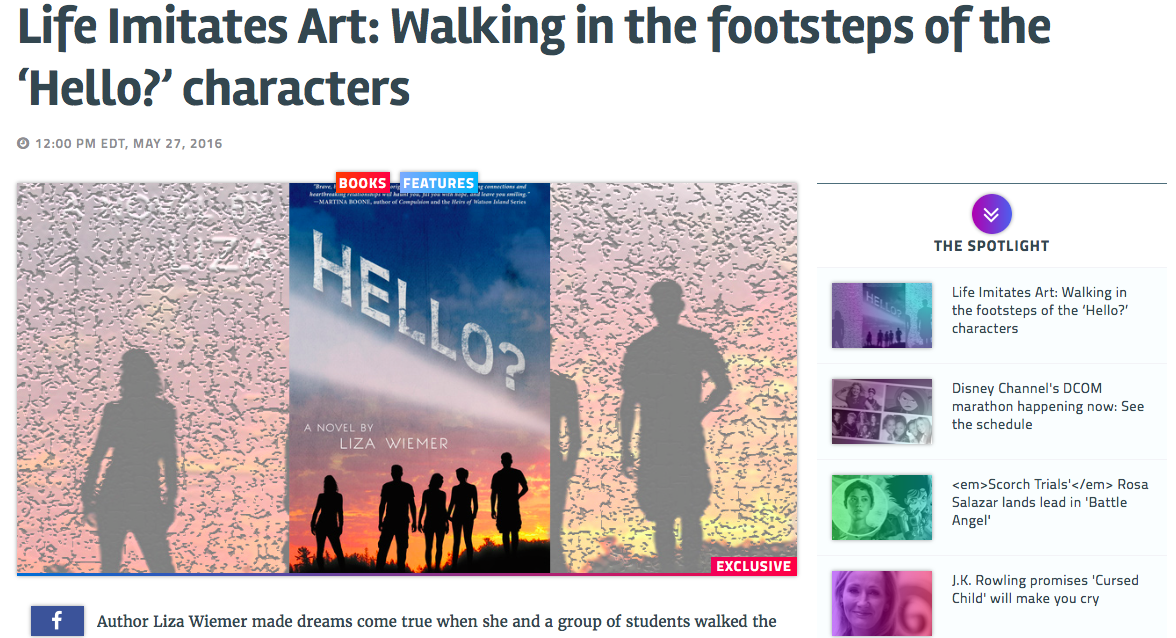 Hypable: Life Imitates Art: Walking in the footsteps the "Hello?" characters